A World Without Doc is a song sung by Hallie in the series finale episode "It's a Hard Doc Life". In this song, Hallie wanted Doc to see what a world without her would be like, in a dream.
Lyrics
<poem> Hallie:
Imagine a world, a world without Doc, who'd fix our boo boos and mystery pox. Makes me appreciate the world we got.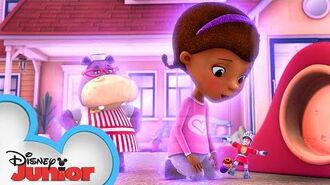 Imagine the toys, that wouldn't be fixed.Imagine the fun times we would have missed
If you turn back the toy hospital plot, to a world without Doc.
Bronty's head would be still stuck in the sand, Frida's wing would still be ripped. Zero's rocket would have to crash land.
And all toys those would still be broken and sick, in a world, a world without Doc.
Wouldn't be good as the world that we've got. Can you imagine, I would rather not, a world without Doc. <poem>