"Bike Rules" is a Doc McStuffins song from the season 3 episode "Tour De McStuffins". It is sung by Doc, Stuffy, Lambie and Hallie.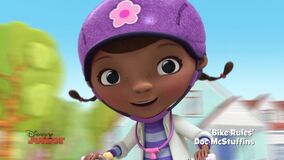 Lyrics
<poem> Doc: You've got your bike You wanna go fast
Lambie and Hallie: We know you're stoked So make the fun last
Stuffy: Here are things you're gonna need Helmet, kneepads Watch your speed
All: Whoa, whoa! The bike rules, whoa, whoa!
Stuffy: 'Cause bikes rule
All: Stay in your lane No wheelies or jumps Be careful of cars And people and stunts
Whoa, whoa! The bike rules Whoa, whoa! 'Cause bikes rule