"Everybody In The Pool" is a Doc McStuffins song from the Season 1 episode "Get Set to Get Wet". It is sung by Doc and Surfer Girl with Stuffy and Lambie in the background. This song is on the CD Doc McStuffins: The Doc Is In.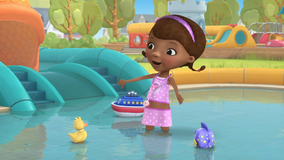 Lyrics
<poem> Stuffy and Lambie: Oooh, Oooh, Oooh Oooh, Oooh, Oooh, Oooh
Doc: Butterfly, backstroke, got to know how to swim
Surfer Girl: It's a perfect day to learn, so jump right in
Doc: Move your arms and kick your feet
Doc and Surfer Girl: Everybody in the pool Gotta go to swimming school
Doc: No better way to make a hot day cool
Doc and Surfer Girl: Cool
Doc: Don't you want to catch a wave?
Surfer Girl: When you're underwater, you won't be afraid
Doc, Lambie, Stuffy and Surfer Girl: Learning how to swim is cool, gotta go to swimming school Everybody in the pool