"Help Us Help You!" is a Doc McStuffins song from the Season 4 episode "The Most Impatient Patient". It is sung by Doc and Hallie. Doc sings to The Wicked King about how he needs to help them, help him, so he gets better faster and quicker.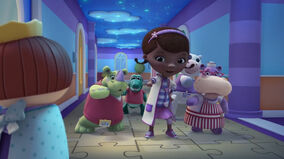 Doc:
We're sorry you got hurt
We're sorry you feel bad
Impatience makes it worse

Doc and Hallie:
We got this, we'll help you
Sit back and relax
Help us help you
'Cause that's what we do
Give you the finest care that you deserve
Help us help you
Get better soon

Hallie:
Hurry up before you hurt my last nerve

Doc:
What she means is help us help you

Doc and Hallie:
Get the care you deserve




Community content is available under
CC-BY-SA
unless otherwise noted.