"Just Say Hi" is a Doc McStuffins song from the Season 2 episode "Shell Shy". It is sung by Doc, Stuffy, Lambie, Hallie and Chilly.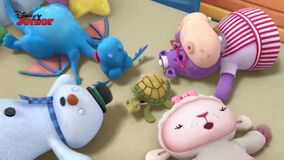 Lyrics
<poem> Doc: Theodore, what are you waiting for? It's time to come out of your shell
Stuffy: Down inside I know you want to hide
Lambie: But if you summon up the courage Nobody can tell
Doc, Stuffy and Lambie: Don't walk away when you feel shy Stand up tall and just say hi
Doc: The simple instruction For new introductions
All: Just say hi, how are you? Tell me what's your name? Wanna ride bikes or play a game? Give it a try 'cause You might make a friend for life! If you just say hi!