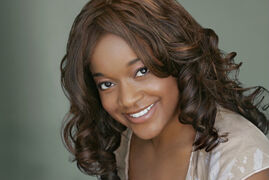 Kimberly Brooks (born August 8, 1968, age 51) is an American actress in the voice-over, film, video games, and theatre industry. She is known for her roles such as Ashley Williams in the Mass Effect series, Barbara Gordon/Oracle in Batman: Arkham Asylum and Batman: Arkham City, Shinobu Jacobs in No More Heroes and No More Heroes 2: Desperate Struggle, Jasper and her half of Malachite in Steven Universe, and Luna in the Scooby-Doo franchise as part of the Hex Girls.
She is the voice of Doc's mother, Maisha McStuffins and Surfer Girl on Doc McStuffins.
Early Life
Kimberly Brooks was born and raised in Southern California.
Spouse
Children
Trivia
Attended same University as: Steven Spielberg, Joe Johnston, Steve Martin, Tim Minear, Scott Rogers, Chris Carter, Mark Steven Johnson and Maitland Ward.
Founding member of The Elephant Theatre Company in Hollywood, CA.