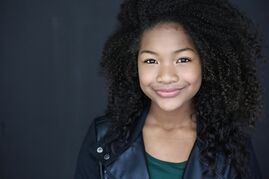 Laya DeLeon Hayes (born June 22, 2004, age 17) has been performing as an actress, singer, and dancer since she was 5. She replaces Kiara Muhammad as the voice of Doc Mcstuffins starting in season 3.
Laya resides in Los Angeles, CA with her family and loves acting, singing and entertaining as well as riding her bike, rollerblading, amusement parks and going to the beach, drawing and as long as she's having fun she's all in.
Trivia
She was born in Charlotte, North Carolina, United States.