"Ride, Ride the Ambulance" is a Doc McStuffins song from the Season 4 episode "Stuffy's Ambulance Ride". It is sung by Lambie, Chilly and Darla. In this song, Lambie, Chilly and Darla sing to Stuffy about how riding an ambulance can help you on the way to a hospital.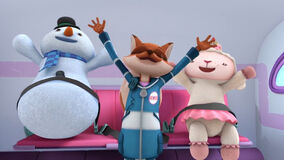 Darla:
Don't go yourself when you need help
In an emergency
An ambulance is the safest way
To get from Point A to B
You can get a lift from me

Lambie, Chilly and Darla:
Ride, ride the ambulance
Travel quick with confidence
The sirens say, "Get out of the way"
We'll get you there fast and safe
Stuff's set up for medical care

Darla:
Until my vehicle gets you there

Lambie, Chilly and Darla:
To the hospital, before you know
The ambulance is the best way to go
The best way to go






Community content is available under
CC-BY-SA
unless otherwise noted.