"Step Out" is a Doc McStuffins song from the season 3 episode "Boxed In". It is sung by Doc, Stuffy, Lambie, Hallie, Chilly and Flora. In this song, Doc and the gang sing a flamenco song about being inside a box and not to worry about getting messy.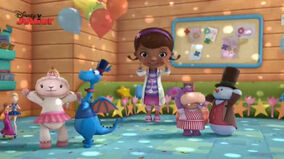 Doc:
Step out, step out
Out of your comfort zone

Flora:
Really, right now?
What if I stumble though?
My beautiful dress will be a mess

Doc:
You'll be okay, I promise
Come out and play
And I'll be honest
Life is so fun and fine
When you can

All:
Dance outside the lines
Step out, step out

Doc:
Out of that box you're in

Flora:
Maybe I won't want to go back in again

All:
No worries or fuss
Step out with us









Community content is available under
CC-BY-SA
unless otherwise noted.