"Stuffy the Great" is a Doc McStuffins song from the season 2 episode "A Tale of Two Dragons". It has a longer version on the Disney Junior DJ Shuffle CD. It is sung by Doc, Lambie, Hallie and Chilly.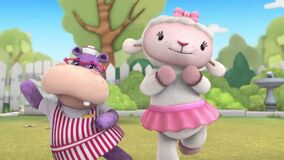 TV Version
Edit
Lambie:
So your eyes don't glow and you don't fly
But you make us laugh all the time
Hey, hey Stuffy the great
Doc:
You may not have the loudest roar
But you can tear it up on the dance floor
Hey Stuffy the Great
Doc, Lambie, Hallie and Chilly:
Stuffy Handsome and funny
Clever, brave and unforgettable
Chilly:
As dragons go, you're so incredible!
Doc, Lambie, Hallie and Chilly:
Stuffy The one and only
Everyone knows you're our best mate
Stuffy the great
Full Version
Edit
Lambie:
So your eyes don't glow and you don't fly
But you make us laugh all the time
Hey, hey
Stuffy the great

Doc:
You may not have the loudest roar
But you can tear it up on the dance floor
Hey
Stuffy the Great

Doc, Lambie, Hallie and Chilly:
Stuffy
Handsome and funny
Clever, brave and unforgettable

Chilly:
As dragons go, you're so incredible!

Doc, Lambie, Hallie and Chilly:
Stuffy
The one and only
Everyone knows you're our best mate
Stuffy the great

Hallie:
If it sounds like fun, he'll give it a try
He's a glass half full, kind of a guy
Hey, Heey
Stuffy the great

Chilly:
You cheer me up, when I'm scared or sad

Lambie:
You're the greatest pal, a Lambie could have

Lambie and Chilly:
Hey
Stuffy the great

Doc, Lambie, Hallie and Chilly:
Stuffy
Handsome and funny
Super smart and extra lovable

Lambie:
As dragons go you're surprisingly huggable

Doc, Lambie, Hallie and Chilly:
Stuffy
The one and only
Everyone knows you're our best mate
Stuffy the great

Doc:
He'll land a hand, if you're in a jam

Lambie:
He's a true blue and purple friend

Chilly:
He's the first to help, when I'm starting to melt

Hallie:
And he's always a gentlemaaaaannnn

Doc, Lambie, Hallie and Chilly:
Stuffy
Handsome and funny
Clever, brave and unforgettable

Chilly:
As dragons go, you're so incredible!

Doc, Lambie, Hallie and Chilly:
Stuffy
The one and only
Everyone knows you're our best mate
Stuffy the great