"Tell The Doc" is a Doc McStuffins song from the Season 1 episode "Righty-on-Lefty". It is sung by Doc, Stuffy and Lambie to Awesome Guy about telling Doc what's wrong so she can help him.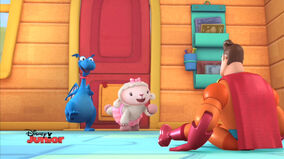 Stuffy and Lambie:
If you don't tell the doc what's going on
How's she supposed to know if anything's wrong?

Lambie:
Tell the doctor everything

Stuffy:
Every ache and pain

Stuffy and Lambie:
The less she has to guess depends
On how much you explain
So please tell the doc if anything's wrong

Doc:
I really want to know what's going on

All:
A hero can't be super
If he can't get off the ground
Make a list of sprains and twists
And let her check you out

Doc:
I'll do it now!






Community content is available under
CC-BY-SA
unless otherwise noted.