The Big Book of Boo-Boos is a journal that Doc uses to keep track of the different ailments, syndromes and diseases she diagnoses her toys with.
Hallie fetches it for her in the main shows and in The Doc Files Doc recalls other cases from it.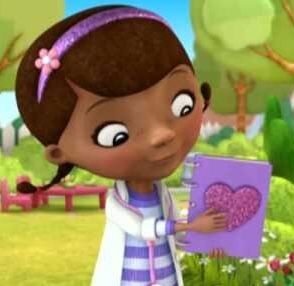 Big Book of Boo-boos' Info
Description
The book is a purple journal with a glittery pink heart in the center.
Episode
Diagnosis
Symptoms
Who got it?
Knight Time
Filthy, Icky, Sticky Disease (AKA sticky goo)
Never been cleaned
Sir Kirby
A Bad Case of the Pricklethorns
The Pricklethorns (AKA deflation by being popped)
Poked by a thorn
Boppy
Out of the Box
Can't-pop-itis (AKA having his shirt stuck in the box)
Unable to pop out
Little Jack
Run Down Race Car
No Vroom-Vroom-atosis (AKA Energy drainage)
Lack of energy
Ricardo
Tea Party Tantrum
Eyes-Wide-itis (AKA Eyes that are stuck open)
Unable to close eyes
Susie Sunshine
Blast Off!
Fall-apart-atude (AKA loose limbs)
Keeps falling apart
Zero
Engine Nine, Feelin' Fine!
Dried-Out-atosis (AKA dehydration)
Not having any water
Lenny
The Right Stuff
Flat-tail-itis (AKA ripped part where the stuffing goes)
Losing their stuffing
Stuffy
Gulpy, Gulpy Gators!
Stuff-fully-osis (AKA cramped space)
Too full of marbles
One Note Wonder
Loose Key Syndrome (AKA loose keys)
A loose music key
Xyla
Arcade Escapade
Stuffanemia (AKA leakage)
Stuffing leaking out
Gabby
Starry, Starry Night
Blurry-Star-itis (AKA blurry vision)
Seeing blurry things
Aurora
Ben/Anna Split!
Huggy-Patch-otis (AKA ripped patch)
A ripped huggy patch
Ben
That's Just Claw-ful
Claw-Be-Gone-itis (AKA broken claw)
Claw out
Hermie
A Good Case of the Hiccups
Repeat-itis (AKA hiccups)
Repeating words
Millie
Stuck Up
Sandy Scoop Syndrome (AKA stuck scoop)
Unable to move scoop
Riggo
Rescue Ronda, Ready for Takeoff
Stuck-Prop-a-tosis (AKA Stuck Splinter)
Small twig stuck in propellor
Rescue Ronda
All Washed Up
Wetmosis (AKA water damage)
Full of water, causing him to shut down
Robot Ray
The New Girl
Weak-Muscle-itis (AKA stiff muscles)
Leg muscles are too weak
Kiko
Wrap It Up
Y.O.B. (Yucky Old Bandage)-Osis (AKA dirty bandages)
Dirty bandage
Niles
Rest Your Rotors, Ronda
Roto-crack-alosis
Broken propellor
Rescue Ronda
Keep on Truckin'
Scratchy-Scrapies (AKA Scratched Paint)
Scratched paint
Trumaine
Blame It on the Rain
Squishy-itis (AKA Soakage by water)
Soaked with rain
Moo Moo
Busted Boomer
Deflate-ulosis (AKA deflation)
Being deflated
Boomer
Dark Knight
The DarkWillies (AKA nyctophobia)
Afraid of the dark
Sir Kirby
Hallie Gets an Earful
Ear-stuffed-a-nosis (AKA clogged ears)
Ears stuffed with stuffing
Hallie
Break Dancer
Not mentioned
Cracked leg
Bella
Bubble Monkey
Gunk-inside-a-tude (AKA glue stuck inside machine)
Paste inside her
Bubble Monkey
Out in the Wild
Sticky-Launcher-itis (AKA broken gadget)
Broken sticky launcher
Robot Ray
A Whale of a Time
Want-to-be-Big Syndrome (AKA urge to be bigger)
Wanting to be bigger
Lula
Walkie Talkie Time
Static-osis (AKA missing antenna)
Missing antenna
Walter
Awesome Possums
No-Stick-a-lepsy (AKA broken velcro)
Missing velcro patch
Penny
The Bunny Blues
Not mentioned
Missing nose
Pickles
Un-Bur-Able
The Un-Bur-Able Burs (AKA stuck burs)
Burs all over body
Stuffy
Righty-on-Lefty
Righty-on-Lefty Syndrome (AKA backwards legs)
Legs on backwards
Awesome Guy
Hallie's Happy Birthday
The Silly-Willies, The Quacks and the Dancies (AKA Acting goofy)
Being silly, acting like a duck, dancing. [all to distract Hallie whilst her party is prepared]
Sir Kirby
Shark Style Tooth Ache
Loose-Tooth-eosis (AKA broken tooth)
A broken tooth
Mr. Chomp
Get Set to Get Wet
Stuck-Winder-Upper-itis (AKA stuck key)
Winder-Upper is stuck
Melinda
Loud Louie
Super-Loud-itis (AKA no indoor voice)
Being very loud
Louie
Caught Blue-Handed
Mystery Pox (later named Glo-Bo Pox) (AKA blue spots)
Blue spots
Glo-Bo, Chilly, Hallie, Squeakers, Buddy, Surfer Girl, Doc
To Squeak, or Not to Squeak
Can't-squeak-otis (AKA broken squeaker)
Lost squeaker
Marvin
Doctoring the Doc
(Leaky, Sniffle-itis) Flu
Fever, sneezing, itchy throat, drowsiness, distractability
Doc
Hot Pursuit
Overheat-atosis (AKA overheated engine)
Staying out in the sun too long
Officer Pete
Boo-Hoo to You!
Ghost-stuck-in-a-Pumpkin Syndrome (AKA just like it sounds)
Cannot get free from his pumpkin
Sebastian
It's Glow Time
No-glow-a-tosis (AKA glower not turning on)
Unable to glow
Glo-Bo
Chilly Gets Chilly
Brrrr-itis (AKA hypothermia)
Staying in the cold too long
Chilly
Through the Reading Glasses
Glasses-Gone-itis (AKA missing glasses)
Missing glasses
Professor Hootsburg
My Huggy Valentine
Split-Heart-itis (AKA lonliness)
Sad from a broken heart
Lambie
Dusty Bear
The Dusty Musties (AKA dust)
Covered in dust
Teddy B.
Bronto Boo-Boos
Bronto Boo-Boos (AKA dinosaur attack)
Attacked by a brontosaurus
Every Toy (except Hallie)
Brontosaurus Breath
Stinky-salami-breath (AKA hallitosis)
Bad breath
Bronty
Doc McStuffins Goes McMobile
Not mentioned
Missing winder-upper
Norton
Chip Off the Ol' Box
Bent Crank-osis (AKA bent crank)
A bent turning crank
Big Jack
Awesome Guy's Awesome Arm
Arm-Overuse-is (AKA sore arm)
A sore arm
Awesome Guy
Lamb in a Jam
Jam-on-Lamb-itosis (AKA sticky jam)
Plush covered in jam
Lambie, Stuffy
Diagnosis Not Even Close-is
The Zoomarounds (AKA broken controls)
A missing speed dial, stuck on fast mode
Robot Ray
Bronty's Twisted Tail
Twisted-tail-atosis (AKA twisted tail)
Twisted tail
Bronty
Frida Fairy Flies Again
Ripped-Wing-engitis (AKA ripped wing)
Big rip in wing
Frida
A Tale of Two Dragons
Cardboard Jammie-Jams (AKA stuck cardboard)
Cardboard stuck in wing doors
Dragon-Bot
Think Pink
Pinkitosis (AKA bad color change)
Pink coloring
Chilly
You Foose, You Lose
Can't-Spin-aritis (AKA stuck control)
Unable to spin
Johnny Foosball
Leilani's Lu'au
No-Hula-tosis (AKA energy drainage)
No energy to hula
Leilani
Karate Kangaroos
Not-Ready-For-Play-itis (AKA nervous jitters)
Unable to get ready to play
Angus
Doc to the Rescue
Popped-out-o-titis (AKA popped leg)
Leg popped out
Dress-up Daisy
Don't Knock the Noggin
Loose Chip-tosis (AKA broken computer chip)
Loose computer chip
Stuntman Steve
Disco Dress Up Daisy
Disco-fracture-itis, I-wanna-Boo-Boo Syndrome (AKA broken arm and sympathy)
Crack in arm, feeling jealous
Dress-up Daisy, Lambie
The Glider Brothers
Not Mentioned, Waytoospeedy-itis
Broken propeller, very eager to fly fast
Wilbur [both times], Orville
Kirby and the King
Stuck-to-you-Boo-Boo's (AKA getting stuck together)
Stuck together
Sir Kirby & The Wicked King
Bubble Monkey, Blow Your Nose!
Slippy Drippies (AKA bubble pipe leak)
Leak in bubble pipe
Bubble Monkey (Toy)
Professor Pancake
Squished flat-atosis (AKA flattening)
Flat as a pancake
Professor Hootsburg
You Crack Me Up
Itchy Tickle-no-mosis (AKA cracked leather)
Cracked leather tummy
Gloria
A Very McStuffins Christmas
Not mentioned
Damaged gears
Commander Crush
The Doctor Will See you Now
The Yicky Blobs (AKA splattered clay blobs)
Splattered blobs of clay
Dolly, Carl and Morten, then Chilly, Lambie, and Stuffy
Lil' Egghead Feels the Heat
Too-much-fun-in-the-sun-aplexly (AKA overheating)
Speaking nonsense,feeling painfully hot as the result of too much sun
Egghead
The Big Sleepover
Homesick-tosis (AKA homesickness)
Feeling homesick
Doc
No Sweetah Cheetah
Beautiful-Spot-itis (AKA vain personality)
Having beautiful spots and boasting about them
Rita
Big Head Hallie
Kickie-Stickies, Big-head hippo-atosis (AKA obsession with fame)
Leg stuck in kicking position, too much glory
Sir Kirby, Hallie
Peaches Pie, Take a Bath!
Wet-dog-amosis (AKA bad smell)
Smell like a wet dog
Peaches Pie
Celestial Celeste
Bead-Stuck-o-lepsy (AKA stuck beads)
Beads inside her sphere
Celeste
Run Doc Run!
Broken-leg-atosis (AKA fractured leg)
Tiny fracture on leg
Dart
A Fairy Big Knot
Giant Knot-aotsis (AKA giant knot)
A giant knot on strings
Frida
Rosie the Rescuer
Forwards-Backwards, Panic-itis (AKA backwards head and anxiety)
Head on backwards, panicking
Sir Kirby, Rosie
Crikey! It's Wildlife Will!
Missing-parts-atosis (AKA missing parts)
Missing legs
Wildlife Will
Rootin' Tootin' Southwest Sal
No-spring-oplexy (AKA broken spring)
Unable to swing a lasso
Southwest Sal
Take Your Doc to Work Day
Not mentioned
Doesn't like her hair
Curly Q
Blazer's Bike
Helmet-no-fit-osis (AKA wrong helmet)
Bike helmet doesn't fit
Star Blazer Zero
The Big Storm
Not mentioned
Trapped in the clinic in a storm
Chilly, Hallie
Spritzy Mitzi
Pipe-a-cloggity-crackity-tentacle-osis (AKA cracked sprayer)
Crack in tentacle sprayer
Mitzi
Dad's Favorite Toy
Worn-button-tosis (AKA worn button)
A worn button
Saltwater Serge and Wellington Whale
Chilly and the Dude
Perfect Snowman Syndrome (AKA perfection)
Being the perfect snowman
The Dude
Sir Kirby and the Plucky Princess
Notmentioned, Break-apart-atosis (AKA broken legs)
Flag in hair, arms and legs breaking apart
Princess Persephone, Sir Kirby
Serpent Sam Makes a Splash
Sticky-itis (AKA clogged system by sugar)
Drinking a sugary drink and getting clogged up by the sugary residue
Serpent Sam
The Wicked King and the Mean Queen
Leggy-pops (AKA loose legs)
Leg popped loose
Queen Amena
Take a Stroll
Lazyosis (AKA laziness)
Won't get out of stroller
Tessie
Oooey Gablooey Springs a Leak
Ooozy-goozy-itis (AKA leakage)
Goo leaking out
Oooey Gablooey
There's a King in Your Tummy!
Tummy-a-la-king (AKA king trapped inside stomach)
Wicked King trapped inside tummy
Serpent Sam, Wicked King
Doc's Busy Day
Tiara-itis, Overwhelm-atosis (AKA stuck tiara and overwhelmation)
Tiara stuck on head; overwhelmed by lots of patients
Dress-up Daisy, Doc
Wrong Side of the Law
Broken Shield-anemia
Cracked windshield
Officer Pete
Mirror, Mirror on my Penguin
Mirror Smear-os (AKA drool smears on mirror)
Baby drool smeared all over mirror
Waddly Penguin
Hide and Eek!
Not mentioned
Torn tentacle
Charlie
McStuffins School of Medicine
Squeaky-armor-osis, Twisted spring-amosis, not mentioned, Inside-Out Snout Syndrome, The Sneezies
Squeaky armor, broken leg spring, not sure about being a doctor, squashed snout, sneezing and flying
Sir Kirby, Robot Ray, Tundra, Stuffy
The Super Amazing Ultra Hoppers
Missing brick-emia (AKA missing bricks)
Missing a few bricks in his legs
Delloroto
Hazel Has a Sleepover
Too full-itis (AKA hyperhydration)
Too full of water, may cause leakage
Hazel
My Breakfast with Bronty
The sticky syrup sticky stucks (AKA sticky syrup)
Tail stuck to his leg by sticky syrup
Bronty
Training Army Al
The Ready-to-Serves, not mentioned
Preparing to be played in the woods, worried about a friend going away
Army Al, Bronty
Sproingo Boingo Takes the Leap
Sprained Spring-a-mosis Syndrome
Twisted spring
Sproingo Boingo
Shell Shy
Not mentioned, The Shy Guise (AKA shyness)
Stuck spring, Shy of being around others
Theo [both times]
Commander No
Stuck-transformation-switch-osis
Transformation switch is stuck
Commander Crush
The Flimsy Grumpy Bat
The Soggy Flimsies
Soaked by water
Count Clarence
Rockstar Ruby and the Toys
Icky Stickies
Microphone button is stuck
Rockstar Ruby
A Day Without Cuddles!
Flour-Tosis
Plush covered with flour
Lambie
Collide-O-Scope
Knocked Mirror-osis
Mirror knocked out of place
Kiara
Crash Course
Wheels-a-gone-aplexy, Not Paying Attention-itis (AKA distraction)
Wheels broken off taxi cab, not paying attention to where he's going
Tony the taxi cab driver [both times]
Luna on the Moon-a
The No-sticky-sticks
Shoe does not stick to mountain
Luna
Fully in Focus
Not mentioned, Double disk-osis
Panicking over the wrong facts, two viewing discs in him
Professor Hootsburgh, Viewy Stewie
Picky Nikki
2 not mentioned ones, Picky-itis (AKA hunger and selectivity for the last too)
Missing stopper, empty stomach, picky about trying something new
Nikki [all 3 times], Donny [flashback only]
Getting to the Heart of Things
Cracked air tube-itis
Crack in air tube
Coach Kay
Toy in the Sun
Not mentioned
Discoloured plastic on back due to sun exposure
Bronty
A Big Pain in Teddy's Tummy
Prickliosis-in-your-tummius (AKA splinter on abdomen)
Thorn on tummy
Teddy B.
Slip N' Slide
Super-Soaked-Way Wet Dragon Disorder
Soaking wet
Stuffy
Itty Bitty Bess Takes Flight
Acute-rusty-atrophy
Rusty joints

Bess

Boxed In
Messy-o-phobia (AKA ataxophobia)
Fear of getting messy
Flora
Top Lamb
Paw Thread-Pull-ezia
Thread on paw has been pulled
Lambie
Molly-Molly Mouthful
Mouth-full-of-flapjack-itis
Mouth clogged by too many flapjacks
Molly-Molly Mouthfull
Doc's Dream Team
Nightmare Scary-Scares
Scared by a nightmare
Doc
Filling Chilly
Stuffing-gone-osis
No stuffing
Chilly
Fetchin' Findo
Sandy-nose-a-tosis
Sand in nose
Findo
Twin Tweaks
Attracto-No-mosis
Repelling magnets do not attract them
Chaz and Jaz
A Dragon's Best Friend
Antenna Crush Syndrome
Broken antenna
Squibbles
Stuffy & Squibbles
Slow-Mo-Squibble-osis
No energy
Squibbles
Queen of Thrones
Leader-Not-Appreciated-itis Blues (AKA feeling underappreciated as a leader)
Upset over being called 'bossy'
Queen Amina
Master and Commander
Not mentioned, Forgetful-ossitude Fall-Downs
Broken wing, forgetting orders
Commander Crush
Three Goats A'Cuddlin'
Not mentioned
Tangly wool coats

Farmer Mack

's goats
Swimmer's Belly
Swimmer's Belly, not mentioned (AKA soakage and disappointment)
Water in tail, upset about her show going wrong
Melinda, Lambie
Huggable Hallie
Talkie-Footsies
Computer chip in foot
Hallie
Pop-Up Paulo
Ouchie-Twisty Springs
Tangled and twisted spring

Paulo

Nurse's Office
Fakey-sicky-school-iosis
Faking sicknesses to avoid school
Chilly
A Case of the Glitters
The Glitters
Covered in itchy glitter
Dress-Up Daisy, Lambie, Chilly, Stuffy
Doc McStuffins Goes to Washington
Torn-tail-iosis
Rip in tail
Tavia
Winded Winnie
Winnie Wheezies
Dust in air filter
Winnie
Hallie Halloween
Scared-to-go-backs (AKA a negative association with a place)
S cared to go back after having a terrible fright
Hallie
Don't Fence Me In
Don't fence my face-itis
Head stuck in fence
Gustov
Demitri the Dazzling!
Not mentioned, Bunny-spring catch-on-stuff-alossitude
Upset over show being ruined, spring ripped from foot
Demitri, Carrots
Smitten With a Kitten
Skittery Kitty-itis (AKA timid personality in cats)
Nervousness
Whispers
The Search for Squibbles
Hypo-No-tag-osis
No ID tag
Squibbles
Factory Fabulous
Factory Fabulous
How he was made in the factory he came from
Wyatt
Lambie Gets the Linties
Hyper-lint-emia (AKA lintiness)
Lint all over plush
Lambie
Moo-Moo's Tutu Boo Boo
Trip-rip-erosis (AKA an abrasion)
Rip in leg
Moo Moo
The New Nurse
Rolly-Rose-iosis, Twiggy Vine-itis, 2 not mentioned ones
Covered in roses and twigs, likes the new nurse style, dislocated shoulder
Hallie, Dress-Up Declan, Dress Up Daisy
Chilly's Loose Button
Dangle-Button-Breakies
Broken & loose button
Chilly
Say It Again, Sadie
Squawky-No-Talkie Syndrome (AKA voice loss)
Unable to speak
Sadie
Mind Over Matter
Flashy button envy-itis
Jealous over the modern toys' features
Saltwater Serge
Snowy Gablooey
Frigid-Frosty-Freezies (AKA hypothermia)
Frozen solid and therefore unable to move much
Oooey Gablooey
Goooooal!
Hockey-induced Arm-y-Fall-Off-y
Hurt arm, but still wants to play hockey
Sir Kirby
Liv Long and Pawsper
Antenna Deficit Disorder
Broken antenna
Liv
Space Buddies Forever!
Wingius-Fallius-Offalossalopsy
Wing has fallen off
Commander Crush
Kirby's Derby
Cracky-Wobbly Wheelie-Whoops
Crack in wheel
Bonnie Blue
Ticklish Truck
Feathery-Tickly Haha-Hohos
Uncontrollable giggling
Lenny
Blast Off to the Unknown!
Stomp-olepsy, 2 not mentioned ones
Air pump is not working, worried about moving, sad that he'll miss his friend
Star Blazer Zero, Commander Crush
Bust a Move
Moving-ripped-scuff can't dance-osis
Dirty, ripped, nervous about being in a new place
Ferris
Baby McStuffins
New Babysitter-itis, Baby Boo-Hoos (AKA jitters about babysitting and colic)
Worried about being a new babysitter, won't stop crying
Doc, Cece
Selfless Snowman
Stuffing-emia, not mentioned
Stuffing is falling out, afraid to make a donation
Charlie, Pickles, Chilly
St. Patrick's Day Dilemma
Shamrock Scribblies
Crayon scribbles all over dress
Fiona
A Giant Save
Not mentioned, Ripped-loose-stuffing-osis
Upset over being big, rip on foot
Gillian, Professor Hootsburgh
Runaway Love
Big Brother Blues, not mentioned
Worrying about having to share the love with the new baby
Donny, Lambie
Tour De McStuffins
Reckless Rider-Itis
Bent leg

Stella

Hooty's Duty
New Baby Jittery-Jitters
Nervous about the new baby
Professor Hootsburg
A Cure for a King
No-Crown-Frowns
Crown has fallen off head
The Wicked King
Bringing Home Baby
not mentioned
Rip in wing
Stuffy
Baby Names
not mentioned
Rip in shoulder
Lala
Night Night, Lala
not mentioned
Nervous about being in a new home
Lala
The Lady in the Lake
Vestless-Fashion Victim-itis
Does not like her life vest
Dress-Up Daisy
Black Belt Kangaroos
Kick-Clack Knee Cracks
Loose leg spring
Sidney
Joni the Pony
Hoof & mane-itis, not mentioned
Long mane tangled up in hoof, got tripped
Joni, Lambie
Sleepless in Stuffyland
Butterfly-tummy-osis (AKA jitters)
Nervous about something important
Stuffy, Doc
The Scrapiest Dragon
Scrape-y Stomach Syndrome
Scrape on belly
Stuffy
Going for Broke
Arm Overstretched-osis, Awesome Fever (AKA dislocated arm and arrogance)
Arm comes off, eager on being awesome
Awesome Guy [Both times]
Welcome to McStuffinsville
2 not mentioned, Left Behind-itis
Bad wheel, ripped arm, heartbroken over being left behind
Tiggley, Stanley
First Day of Med School
Crackedy-leggedy-whoops, Ripped Plush-anemia, Sticky Bandage-osis
Hurt leg, ripped plush, sticky bandages on body
Bronty, Professor Hootsburgh, Dress Up Daisy
Stuffy Gets His Scrubs
Not Mentioned, The Furry-furry Stick-stucks
Worried about finding your place, having a stick stuck in your fur
Stuffy, Squibbles
Night Shift
Not mentioned
Worried that working in the nursery won't work for her
Lambie
Check-Up Chilly
Hyper-checkupsies (AKA hypochondria)
Keeps asking for checkups you don't need
Chilly
Project Nursery Makeover
Not mentioned (AKA perfect health)
Four healthy baby dolls

Lily

,

Lola

,

Lacie

, Billie
Stuffy's Ambulance Ride
Not mentioned
Has a very bad rip
Stuffy
Made to Be a Nurse
Leggy Pops, Cracked Leg Peg-osis, Rhino-twisty
Legs popped off, leg having a crack in it, horn being twisted on face
Leggy Leo, Riley Rhino
Rescue at the Ranch
Broken Wheelatosis, Rotor Plexy
Wheel fall off, rotor cracked

Rusty

, Rescue Ronda
CeCe's First Bath
Dirty Baby-doll Syndrome
Being dirty
CeCe
The Most Impatient Patient
Not mentioned
Having a crown concussion
The Wicked King
Chilly's Snow Globe Shakeup
Snowman Stick-arm Un-stick Syndrome
Arm falling off
Coco
Hoarse Hallie
Voice Kaput-aplexy (AKA voice loss)
Voice being gone
Hallie
A Lesson in Diagnosis
Sand Scratchys, The Scratchy Sand Coughie-coughs
Having sand on fur, having sand in throat
Gloria, Peaches Pie
Karaoke Katie's Opening Night
Stretched Arm-atude, Chargeless Chargies (AKA pulled muscle and low battery)
Arm being stretched too far, not having enough charge
Oooey Gablooey, Karaoke Katie
Nikki's Night in the E.R.
Not mentioned, Tangly-atosis
Having a crack on her side, being tied together
Nikki, Dress Up Daisy and Charlie
Royal Buddies
The Arm Poppies, The Deviated Buddy-ups (AKA dislocated arm and loneliness)
Arm popped off, being separated from your buddy
Sir Kirby (both times), The Wicked King
Bouncy House Boo Boos
Happy Birthday-atosis, Hyper Bouncy-bonks
Having a happy birthday, getting hurt from bouncing
Boppy (both times), Stuffy, The Wicked King, Pop Up Paulo, Hazel, Chilly, Squeakers
The Best Therapy Pet Yet
Not mentioned
Hurt trunk
Hazel
The Mayor's Speech
The Stuckies
Having a stutter
Mayor Billington
The Lake Monster
Not mentioned, Blocked Squeaker-itis
Hurt claw, having your squeaker blocked
Hermie, Squeakers
Chuck Learns to Look!
4 not mentioned
Having fluff in tires, broken headlights, having gravel stuck in neck, not looking/being careful when crossing the street
Ricardo, Officer Pete, Chuck
Birthday Party Emergency
Not mentioned
Legs being popped off
Tarantu-Lon
Camille Gets Over The Hump
Cactus-spina Tingly Dingly
Having a cactus needle in hump

Camille The Camel

Willow's Wonky Whiskers
Wonky Whiskeritis, Internal Whiskery Prickly-itis
Bent whiskers, whisker being pushed in
Willow
Into the Hundred Acre Wood!
Snuggle-bear Bellyitis
Losing fluff from belly
Winnie the Pooh
Mole Money, Mole Problems
Not mentioned, Bump-a-lots (AKA clumsiness for the second one)
Arm goes zig-zaggy, bumps into stuff

Hilary Mole

Yip, Yip, Boom!
Big Boomaphobia (AKA phonophobia)
Scared of loud noises
Squibbles
Get-Well Gus Gets Well
Broken Wing Dings
Having a broken wing
Gus
Triceratops Trouble
Slippy Slide-y Wheel Syndrome
Having no tires on front wheels
Tracy Triceratops
Hannah the Brave
The Icky-Yicky Gummy Stickies
Having icky, sticky gum stuck in your hair
Hannah
Waddly's Huggy Overload
Hoppity Horsey-itis, not mentioned
Being startled, broken flipper
Bonnie Blue, Waddly Penguin
Lambie Stuffy Switcharoo
Not mentioned
Being overwhelmed at opposite jobs
Stuffy and Lambie
The Sleepwalking King
Sleepwalk King-itis (AKA sleepwalking among male royalty)
Walking in your sleep
The Wicked King
Count Clarence's Daytime Adventure
The Dino-Denties, Bat-Induced-Sleepy-Sleeps (AKA being trampled by a dinosaur and sleep deprivation)
Being stomped on by a dinosaur, staying up past your bedtime
Count Clarence (both times)
Dixie Gets Glued
The Gooey-Gummy-Gloopy-Glues
Getting glue all over yourself
Dixie
Lambie and the McStuffins Babies
Sticky-Stuck Stork Leg-itis, Sleepy Baby Syndrome (AKA fatigue in infants for the second one)
Having leg stuck in an unnatural way, babies being tired

Stuart the Stork

, Baby Toys
The Emergency Plan
Not mentioned (AKA unpreparedness)
Not having an emergency plan and kit
The Doll Family
What a Quack
Backward Twisty Ducky Footsies
Having your foot on backwards
Quackson
First Responders to the Rescue
Scaredy Scares, Bendy-leg Boo-boos, not mentioned, Leggy Pops, Peachy-Sticky-Fluffy-Stucks (AKA astraphobia, bend fracture, injured wing, dislocated leg, and dirtiness)
Being scared of thunder and lightning, having your leg bent, hurt wing, legs popped off, being covering in both pie and stuffing
Dev, Shinji, Stuart the Stork, Leggy Leo, Peaches Pie, Fabio, Charlie, Dolly, Morten
Mermaid in the Midfield
Homesick-itis
Getting a foosball foot fracture
Johnny Foosball
Whole Lotta Hula
Homesick-itis, The Melties
Being homesick, knee melted together because of hot sun
Leilani
Daisy Makes the Call
Not mentioned
Having blocks fallen on him
Sir Kirby
Visiting Hours
Not mentioned, Not mentioned
Being run over by a bike, being afraid to visit a friend in the hospital
Commander Crush, Star Blazer Zero
Stuffy's Wild Pet
Hurt Hoof-adosis, Wild-osis (AKA hoof injury and feralness)
Having a hurt hoof, being meant to be wild
Both times Zane
On Call Ball
Dancey-Rippies
Plush ripping while dancing
Stuffy
On a Roll!
Not mentioned, No Ramps-atosis
Having your arm broken and wheelchair busted, no ramps or rails around town
Wildlife Will, McStuffinsville
Home Is Where the Fruit Is
Address-A-No-Go Syndrome
Not knowing your address
Rocky
The Pet Rescue Team
Pets
The Doc McStuffins Christmas Special
Father Christmas
Toys in Space
Gallery