"The First Lady and Me" is a Doc McStuffins song from the Season 3 episode "Doc McStuffins Goes to Washington". It is sung by Doc with Stuffy and Lambie in the background. In this song, Doc sings about traveling to Washington D.C. to meet Michelle Obama.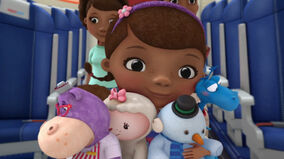 Lyrics
<poem> Doc: I've never been so excited This doesn't happen every day Pack my toys and lab coat
Stuffy and Lambie: Don't forget your stethoscope
Doc: Take a car to a plane And practice what to say
Stuffy: Yeah!
Doc, Lambie and Stuffy: We're going to the White House In Washington, D.C. We're going to the White House
Doc: It's gonna be all about the First Lady and me When I get to the White House I wonder what I'll see
Doc, Lambie and Stuffy: The Oval Office and the Air Force One
Doc: Or the Rose Garden for tea
Lambie: Tea…
Stuffy: Tea…
Doc: With the First Lady and me