"There's An Appointment For That" is a Doc McStuffins song from the Season 4 episode "Check-Up Chilly". It is sung by Chilly. In this song, Chilly sings about about making appointments of diseases that he never knew he had.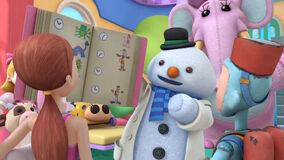 Chilly:
I didn't know my eyes could need goggles I didn't know my tail could twist.I never even heard of obedience class so what on earth else have I missed?
Here's a list of things that are horribly wrong with me, heaps and tons of disasters potentially. Each new question a problem or malady, how did I not know about this?
There's an appointment for that. A checkup for everything, I need one stat! So many bad things to be had a windfall, free-for-all for every hypochondriac!
'Cause there's an appointment, I need an appointment. Please make an appointment for that!
Community content is available under
CC-BY-SA
unless otherwise noted.