"Wing Deep" is a Doc McStuffins song from the Season 2 episode "Frida Fairy Flies Again". It is sung by Doc, Lambie, Hallie and Frida.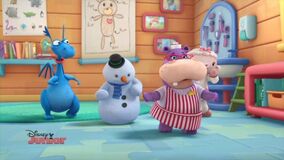 Hallie:
You're born to fly, so don't you hide
You're bandages and scars

Lambie:
You're huggable, lovable
Just as you are

Doc:
Every patch that tells a story

Doc and Lambie:
Suits you perfectly

Doc:
Beauty is more than wing-deep

Doc, Lambie and Hallie:
There's fabulous fairyness in all that you do

Doc:
Every mark and every sparkle

Frida:
That makes me unique

All four:
Beauty is much more than just wing-deep


Community content is available under
CC-BY-SA
unless otherwise noted.