"Your Signature Style" is a Doc McStuffins song from the Season 4 episode "Project Nursery Makeover". It is sung by Lambie and Dress Up Daisy. In this song, Dress Up Daisy sings about the babies and wearing different clothes to tell them apart.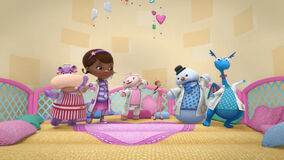 Dress Up Daisy:
Babies are cute, babies are small
How am I supposed to tell them apart?

Lambie:
A color code would give us a start

Lambie and Dress Up Daisy:
Until we learn all of your names by heart

Dress Up Daisy:
You look precious in purple
And you're all about the baby blue
You're great in slate, you're stellar in yeller
Or maybe mint green or, ooh, chartreuse

Lambie and Dress up Daisy:
Hey, that color looks great on you
Looks like we found your signature hue
We'll know who is who from your smile
And your signature style




Community content is available under
CC-BY-SA
unless otherwise noted.